The international pharmacy, founded in 1823, is one of the oldest businesses in the charming town of Stresa, known internationally as "The Pearl of Lake Maggiore".
During the stay of Princess Margherita of Savoy, the Pharmacy was awarded the title of official supplier of the Duchess of Genoa.
The current owner, Dr. Giuliano Antonio, with his wife Daniela, has been working since 1987 and with the experience acquired in over 35 years, has been able to transform the pharmacy over time to cope with market changes and new customer needs. In fact, the pharmacy has evolved into the pharmacy of services, adapting to the digitization that has also affected the pharmaceutical sector. In fact, telemedicine and the electronic prescription system have been implemented, which has made it possible to streamline traditional procedures.
Also authorized by Legislative Decree 219/2006, the pharmacy has extended its normal activity, integrating it with the wholesale trade license which has allowed it to be able to expand its supplier and customer portfolio, allowing it to have sometimes missing drugs available on the national territory. This allowed to guarantee the therapeutic continuity of the patients.
The competence and professionalism of the staff have brought added value over time recognized locally, becoming a reference for the resident and international population. In fact, the tourist district of the Lakes annually hosts hundreds of thousands of tourists who often go to the pharmacy and promptly find a solution to their needs.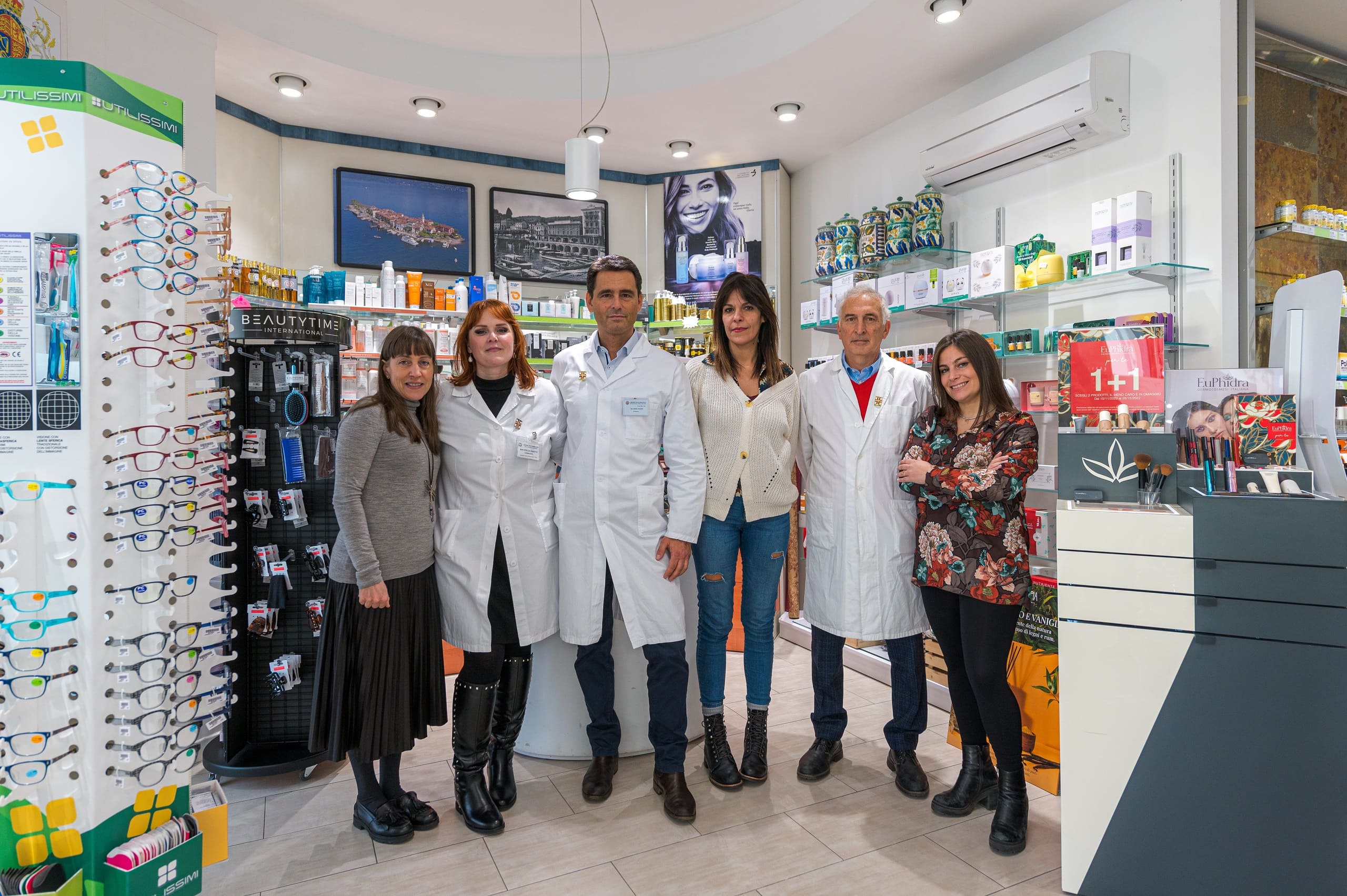 Dr Giuliano Antonio
Owner of the pharmacy, he obtained the title and professional qualification from the University of Turin. After acquiring the necessary skills, he has built his pharmacy over time, adapting it to the changes in the scenario, riding the wave of innovation. With his professionalism he has become a point of reference not only for customers but also for his staff with whom he has established a relationship of trust and familiarity, a leader ready to roll up his sleeves to always be an example to follow.
D.ssa Guidetti Daniela
He holds a degree in Economics and Commerce from Bocconi University in Milan. Since 1987 he has supported Dr Giuliano not only in his work but also in his private life. Over time, he has supported the pharmacy's initiatives by taking care of the accounting procedures, the organization chart and the general management of the activity from behind the scenes. His proactivity is essential in developing and monitoring the entire company.
D.ssa Zanotti Stella
He obtained a degree in pharmacy and a professional qualification from the University of Ferrara. Expert in homeopathy and naturopathy.
After a long experience in the sector in his homeland, he decided to expand his personal background by moving to the shores of Lake Maggiore. Her skills have made it possible to build customer loyalty with whom she has managed to establish a relationship of esteem and certainty. Her roots remain firm but she likes new challenges and is always ready to face them with a smile.
Dr Rognoni Andrea
He obtained a degree in pharmacy and professional qualification from the UNIUPO University of Novara driven by a strong motivation acquired after having previously worked in another sector. The spirit with which he faces situations and his competence become distinctive signs in the work team. The customer and his needs are always in first place and this principle is always confirmed by his interlocutors. His extensive knowledge is a strength with positive repercussions for the entire company.
D.ssa De Stefano Aurora
He obtained a master's degree in economics, management and institutions at the UNIUPO University of Alessandria. Responsible for the wholesale trade, he has been involved in the 360° management of this business branch for over 10 years. Its hallmark is problem solving; the constant search for new possibilities and its alacrity represent an irreplaceable element within the pharmacy.
Montico Marianna
è la responsabile dell'intero magazzino della farmacia di cui ne cura ogni singolo aspetto. Ogni cosa al suo posto è il suo motto curandosi in prima persona degli approvvigionamenti. Parla perfettamente tre lingue fungendo spesso da supporto ai farmacisti che si occupano del contatto diretto con la clientela. Ha acquisito grazie anche ad esperienze precedenti e a corsi di formazione, una forte conoscenza della cosmesi che permette di trovare il prodotto giusto in base alla necessità del cliente.